The new tank bag in the AltRider Hemisphere soft luggage line is smartly designed to make your tank bag configurable to you with a waterproof seal to protect your expensive items. Each essential item such as your cell phone, map, camera, and ear plugs are compartmentalized for easy access. The AltRider tank bag was created to fit the curved fuel tanks of a large range of bikes from the BMW R 1200 GSW down to the nimble KTM 500 EXC.
Der neue Tankrucksack der AltRider Hemisphere Soft-Luggage-Linie ist dazu gemacht, ihn vielseitig zur wasserdichten Unterbringung der kleinen Kostbarkeiten zu nutzen. Jeder Gegenstand, ob Handy, Karte, Kamera oder Ohrhörer, wird so verstaut, dass ein schneller Zugriff möglich ist. Der AltRider Tankrucksack passt auf die Tanks einer großen Anzahl von Bikes, von der BMW R 1200 GSW bis hin zur KTM 500 EXC.
We've laid out the steps for you to install the tank bag properly and a few tips in between on how to pack your personal items. The Hemisphere Tank Bag will last you through many years of adventures with proper care and installation as it's constructed with 1050 denier ballistic fabric and 18 oz vinyl coated polyester.
Wir haben die zur sauberen Montage erforderlichen Schritte für euch zusammengestellt und um einige Tips zum Verstauen eurer persönlichen Gegenstände ergänzt. Der Hemisphere Tankrucksack wird euch über viele Jahre hinweg bei euren Touren begleiten, da er aus 1050 Den-Gewebe und Vinyl beschichtetem Polyester hergestellt ist.
1. Strap It
1. Basisteil Aufspannen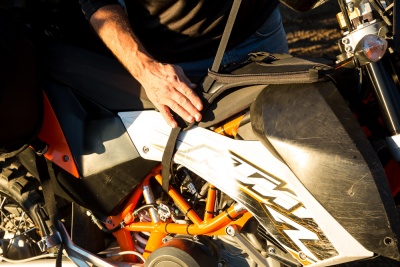 Before attaching any straps, position the tank bag on your fuel tank and make sure you can rotate the handlebars 'lock to lock' without the bag touching your controls. Make a mental note of the position, then unzip the bag from the harness and begin the strapping process. Straps are full strength ballistic webbing and all stitching uses military grade thread. Thread the forward strap around the headset or steering column part of the bikes frame. The 2 rear side straps thread down to the main frame tubes and back up to the harness. Thread through the padded strap slots under the burly zipper and tighten with the ladder lock buckles. Some riders will attach the harness with the seat off the bike and then re-install the seat.
Vor der Befestigung der Gummizüge, den Tankrucksack auf dem Tank positionieren und dabei sicherstellen, dass sich der Lenker von Anschlag zu Anschlag frei bewegen lässt ohne dass dabei die am Lenker montierten Bedienkomponenten mit dem Rucksack in Kontakt kommen. Die so gefundene Position merken, dann erst das Basisteil vom Rucksack trennen und den Spannvorgang beginnen. Die Züge sind aus hochfestem Gewebe und alle Nähte wurden mit Militär geprüftem Garn hergestellt. Zunächst den vorderen Riemen um das Lenkkopfrohr des Rahmens führen und spannen. Die zwei hinteren Riemen nach unten um die Hauptrahmenrohre und dann zurück nach oben zum Basisteil führen. Durch die gepolsterten Aussparungen unter dem stabilen Reissverschluss ziehen und dann mit den Schnallen spannen. Bei einigen Motorrädern wird es erforderlich sein, die Montage bei abgenommener Sitzbank durchzuführen.
2. Zip It
2. Tankrucksack befestigen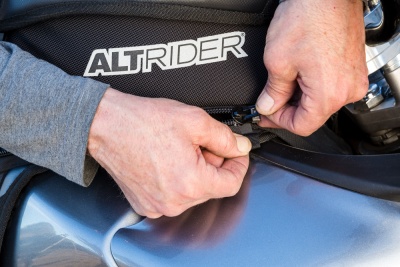 The hard part is over! Zip on the tank bag but be nice to it -- if it becomes clogged with mud or anything sticky, rather than forcing it shut, clean it with a mild soapy solution or lubricate it with a wax based product like this.
Das Schlimmste ist schon vorbei! Nun den Tankrucksack mit dem Reissverschluss am Basisteil befestigen – aber immer schön vorsichtig! Falls der Reissverschluss verschmutzt ist, keine Gewalt anwenden, sondern mit einer milden Seifenlauge reinigen oder mit einem Wachs basierten Produkt wie z. B. White Lightning behandeln.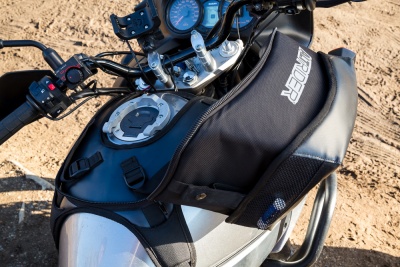 Traditional fuel tank access was taken into account in the original design so both the shape of the main tank bag and the harness were designed for usability. Unzip the bag ¾ to fuel up or take it off completely to carry around your pit stops for safety.
Die Zugänglichkeit des Tanks wurde natürlich beim Entwurf des Tankrucksacks berücksichtigt, d. h. sowohl der Rucksack als auch das Basisteil wurden möglichst anwenderfreundlich gestaltet. Um zu tanken, einfach den Reissverschluss zu ca. 75 % öffnen. Oder das Oberteil ganz abnehmen um die wichtigen Dinge während der Boxenstops bei sich zu haben.
3. Pack It
One snap of the burly metal 5/8" snap (easily done with gloves) and you're ready to pack your bag.
Ein kurzer Druck auf die stabile Metallschnalle und schon kann das Packen beginnen.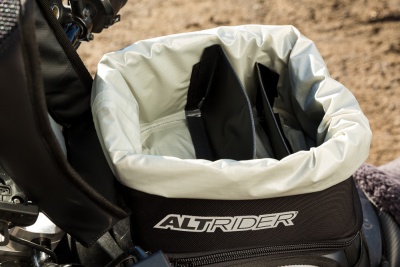 Stowing gear is up to the user but since the interior dividers can be arranged in myriad configurations as well as being completely removed, the options for creating custom spaces inside the main compartment are nearly endless. The vertical walls of the bag are built with plastic stiffeners and wrapped with closed-cell foam padding that is covered with ballistic nylon.
Das Verstauen der Gegenstände ist natürlich Sache des Besitzers, da aber die inneren Teiler in äußerst zahlreichen Kobinationen angeordnet oder auch ganz entfernt werden können, sind die Möglichkeiten, passende Räume innerhalb des Hauptteiles zu schaffen, nahezu unendlich. Die Nylon-Seitenwände des Rucksacks sind mit Verstärkungen aus Kunststoff versehen und mit Schaumstoffpolstern ausgekleidet.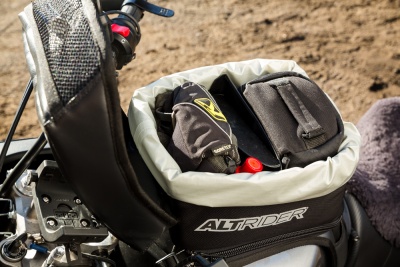 Your DSLR can easily fit into this bag if you like to snap impromptu pictures along with a few other personal items.
Wenn ihr gerne Schnappschüsse auf euren Touren macht: Auch die digitale Spiegelreflex past zusammen mit einigen anderen persönlichen Dingen in diesen Tankrucksack.
4. The Map Pocket
4. Das Kartenfach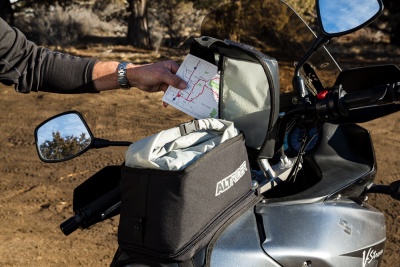 Tough marine-grade vinyl will hold up to UV exposure and is easy to see through with no distortion. The zipper is located under the map pocket on the inside of the lid, exposing less moisture to the inside of the window pocket for maximum defense from the elements.
Stabiles, Marine erprobtes Vinyl halt UV-Strahlung ab und ist gut und ohne Blendeffekte zu durchblicken. Der Reissverschluss ist unter dem Kartenfach auf der Innenseite des Deckels angebracht, sodass ein optimaler Schutz vor äußeren Einflüssen gewährleistet ist.
The touch screen features on most smartphones will still work over the thick vinyl. Use the side webbed pocket for small items like chapstick or ear plugs.
Die Touchscreen-Funktionen der meisten Mobiltelefone bleiben auch durch das dicke Vinyl erhalten. Für kleine Dinge wie z. B. Ohrhörer, empfiehlt sich die Nutzung der vorderen Gewebetasche.
5. Keeping It Dry
5. Trocken halten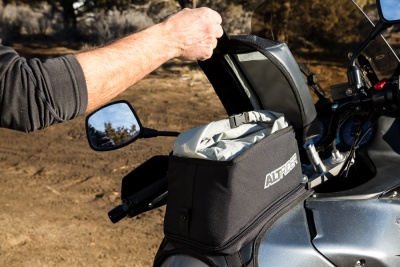 If you see rain clouds ahead, the AltRider roll-top dry bag system is enough to keep the water out. The main compartment liner is constructed with a 10 oz ripstop pack cloth and all seams are taped for waterproofing. It's only waterproof with the right technique of closing it -- make 3 rolls of the generously tailored liner and snap the side release buckle to keep it sealed. If you know its all sunny skies ahead, travel with the main compartment in the "cuff mode". The dry bag will roll down like cuffs on a pair of pants for quicker access to your belongings.
Und wenn es mal nass wird, ist das AltRider dry bag roll-System optimal dazu geeignet, das Wasser draußen zu halten. Das Hauptabteil des Rucksacks ist aus einem Ripstop-Gewebe hergestellt, alle Nähte sind wasserdicht abgedeckt. Aber: Wasserdicht ist alles nur mit der richtigen Verschlusstechnik. Bei Bedarf das großzügig dimensionierte Innenteil dreifach einrollen und den seitlichen Verschluss benutzen um alles zu versiegeln. Wenn es trocken ist, kann man den Rucksack natürlich auch im Offen-Modus belassen und kommt so einfacher an die verstauten Gegenstände.
Click here to order your AltRider Hemisphere Tank Bag. Also in the AltRider Hemisphere soft luggage line are soft panniers, and saddlebags.
Hier klicken um den AltRider Hemisphere Tankrucksack zu bestellen. In der AltRider Hemisphere Soft-Luggage-Linie gibt es übrigens auch Packtaschen und Satteltaschen.