When you find yourself daydreaming about your epic ride, what do you see?
Wenn du von Traumtouren mit dem Bike träumst, was siehst du?
Perhaps you're navigating the tricky Stelvio Pass in Italy, or the Transfagarasan Highway in Romania. Maybe you're attempting a round the world trip like Ewan and Charlie (or Tormod and Klaus, if you're into traveling The Dumb Way Round). Or you might just be having fun on your own turf.
Vielleicht fährst du über den Dempster Highway auf dem Weg nach Alaska. Vielleicht bevorzugst du auch den Rund-um-die-Welt-Trip, die Tour durch die Alpen oder die Fahrt in den heimatlichen Gefilden.
In any of those scenarios, I bet luggage was not a big part of the dream. Let's face it – that's not what you want to worry about, but it is something you'll need to consider. Whether you're doing a day trip or something a little longer, it's always good to bring a few things along.
Ich wette, in keinem dieser Szenarien war Gepäck ein größerer Bestandteil des Traums. Um ehrlich zu sein: damit beschäftigt man sich zwar nicht gerne, trotzdem muss auch dies bedacht werden. Wenn man eine Tagestour oder vielleicht auch eine mehrtägige Tour fährt, ist es immer gut, einige Dinge bei sich zu haben.
We have always taken our time to develop AltRider luggage racks. Why? Because we want to make sure we have a good solution that goes beyond what's already available.
Gepäckbrücken sind bei AltRider über lange Zeit in der Entwicklung. Erste Prototypen für die Ducati Multistrada 1200 und die BMW F 800 GS gehen jetzt erst in Produktion. Warum? Weil wir sicherstellen wollen, etwas mehr zu bieten als das was bereits erhältlich ist.
We started with hook studies.
Begonnen haben wir mit Haken-Untersuchungen.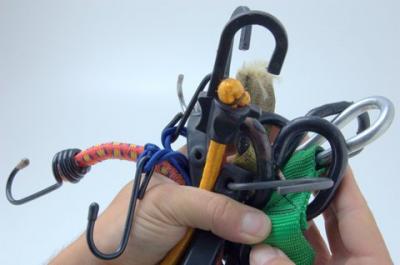 We know from past experience that luggage that looked easy to attach proved difficult once the full load was on. Sure, there might have been holes in which to put the hook, but the result was not a secure engagement. Often the hook couldn't fully seat into the hole because of interference or the angle of approach. We collected many differing hooks -- from tie downs to bungees -- to develop the hole pattern in the side flanges of the luggage rack. We went through a lot of variations and a lot of prototypes before we were happy with the result: an easy, consistent engagement of a variety of hooks, even when strapping down a full load.
Aus Erfahrung wissen wir, dass Gepäckstücke, die sich eigentlich einfach befestigen lassen sollten, Probleme bereiteten sobald man die gesamte Zuladung anbringen wollte. Sicherlich gab es Löcher, in die man die Gurt- oder Gummizughaken einhängen konnte – aber das Resultat war keine sichere Befestigung. Oftmals konnte der Haken aufgrund von Störungen durch andere Teile oder einfach aufgrund eines nicht passenden Winkels nicht vollständig in die Öffnung geschoben werden. Wir sammelten daher viele verschiedene Haken um das Lochmuster in den Seitenteilen der Gepäckbrücke zu entwickeln. Viele Variationen und Prototypen waren notwendig bis wir mit dem Ergebnis zufrieden waren: eine einfache aber trotzdem stabile Befestigungsmöglichkeit für eine Vielzahl verschiedener Haken, die auch bei voller Beladung ihre Eigenschaften behält.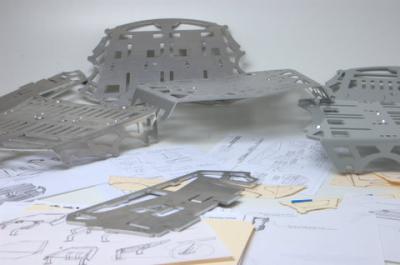 When we finally settled on a design that allowed for different types of hooks in varied configurations, we asked what we could do to make it a little better. First, we wanted to create an interface for the popular GIVI Monokey top cases – a great top case solution for the price. Check! Second, we decided it would be a good idea to incorporate an interface for Rotopax, which is a system that allows you to easily attach gas packs, water packs, and extra tools. Rotopax are practically indestructible, and they never leak at the cap like so many other gas packs do.
Als schließlich die Entscheidung für ein Design gefallen war, fragten wir uns was wir tun könnten, um das alles noch besser zu machen. Zunächst wünschten wir uns ein Interface zum weit verbreiteten GIVI Monokey Topcase. Gesagt – getan! Und dann erkannten wir, dass es eine gute Idee wäre, eine Verbindung zum Rotopax-System herzustellen, einem System welches auf einfache Weise erlaubt, Benzin- und Wasserkanister mitzuführen. Rotopax-Behälter sind praktisch unzerstörbar und sie lecken nie an den Verschlüssen wie das so viele andere Kanister tun.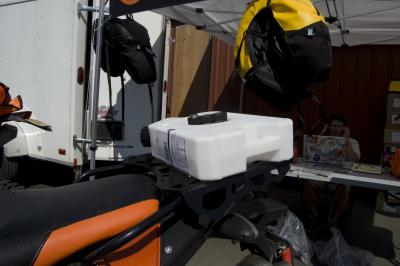 We put in a lot of research and thought into our products, trying to make each one as useful and well-designed as possible. The new luggage racks are more versatile than many currently available, so no matter the situation, you'll already have the solution. Hopefully, that means one of our luggage racks will join you on your next epic ride!
Wir stecken großen Aufwand und viel Grips in unsere Produkte um sie so nützlich und gutaussehend wie möglich zu machen. Die neuen Gepäckbrücken sind wesentlich vielseitiger als viele der bereits erhältlichen Produkte, es gibt also für jede Anforderung die Lösung. Wir hoffen, dass dich eine unserer Gepäckbrücken auf deiner nächsten Traumtour begleiten wird.