Guest blogger Pat Harris is currently riding his BMW F 800 GS clad in AltRider parts on an incredible journey around the world. See his adventures at apatonamotorcycle.com. At the time of this posting, he's been on the road 312 days and clocked over 26,000 miles.
Unser Gast-Blogger Pat Harris ist momentan mit seiner BMW F 800 GS mit AltRider-Parts auf einer unglaublichen Reise rund um die Welt. Seine Abenteuerkann man auf apatonamotorcycle.com miterleben. Zum Zeitpunkt seines Posts war er 312 Tage unterwegs und hatte mehr als 26.000 Meilen zurückgelegt.
We've all had those days at work where all that's on your mind is riding your motorcycle. Maybe you're daydreaming about a weekend ride through the mountains or a day at the track. Or maybe you're simply waiting for 5:00 to roll around so you can have 10 minutes of pure freedom while riding home from work.
Wir alle kennen die Arbeitstage, an denen man permanent ans Motorradfahren denkt.Vielleicht träumt man von einer Wochenendtour oder von einem Tag an der Rennstrecke. Oder man wartet einfach darauf, dass es endlich 17 Uhr wird, damit man 10 Minuten pure Freiheit auf dem Nachhauseweg mit dem Motorrad haben kann.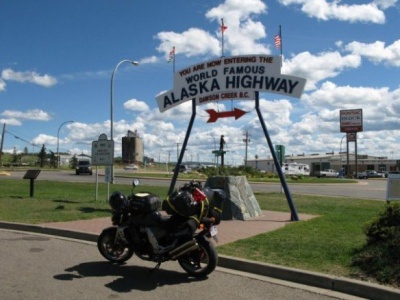 I was bitten with the travel bug during a "short" 18,000 mile trip around the U.S. and Canada in 2007. I spent 3 months traveling around the US and Canada on a Kawasaki Z1000. When it was all said and done, I had covered 16 states and 5 provinces. It was during that trip that I realized one day I wanted to ride even further and experience new places that were different from home. Uncomfortable and challenging situations were something I craved after the monotony of home.
Ich selbst wurde während eines "kurzen" Trips von 18.000 Meilen durch die USA und Kanada vom Reisevirus infiziert. Ich verbrachte 3 Monate mit dieser Reise auf einer Kawasaki Z1000. Als das vorüber war, hatte ich 16 Staaten und 5 Provinzen gesehen. Während dieser Reise wurde mir klar, dass ich eigentlich noch viel weiter fahren und neue Orte entdecken wollte, die sich von zuhause unterscheiden. Unbequeme und herausfordernde Situationen waren nach der Monotonie zu Hause sogar willkommen.
The Beginnings of a Life Changing Adventure
Der Beginn eines alles verändernden Abenteuers
In the spring of 2013, my daydreaming changed to something a bit unknown. All I could think about was letting my motorcycle take me to places I'd never seen. I gave notice to my boss that come June, I had to quit my job as an engineer and hit the road.
Im Frühjahr 2013 änderten sich meine Tagträume zu etwas Undefinierbaren. Alles, an was ich denken konnte, war, mich auf mein Motorrad zu setzen und zu Plätzen zu fahren, die ich nie zuvor gesehen hatte. Also informierte ich meinen Chef, dass ich ich im Juni meinen Job aufgeben würde, um meinen Wunsch in die Tat umzusetzen.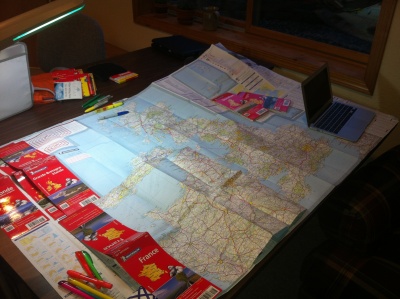 The next step was choosing a route -- I had to consider not only which countries and regions I wanted to ride through, but also which ones to avoid. Sadly, there are many parts of the world where difficult border crossings, customs issues, and a likelihood of various dangerous situations make them poor choices to visit. In the end, I chose a route that would involve five major plane or boat trips and would take me across Europe, Asia, Australia and finally back across North America.
Der nächste Schritt war das Festlegen einer Route – ich hatte festzulegen, welche Länder und Regionen ich durchfahren wollte und, nicht ganz einfach, welche ich vermeiden musste. Leider gibt es auf unserem Globus viele Gebiete, wo schwierige Grenzübertritte, Zoll-Hindernisse und viele andere, teilweise auch gefährliche Situationen, eine Vermeidung dieser Gegend nahelegen. Letztlich wählte ich eine Route aus, die fünf größere Flug- oder Schiffspassagen enthalten und mich durch Europa, Asien, Australien und schließlich zurück nach Nordamerika bringen würde.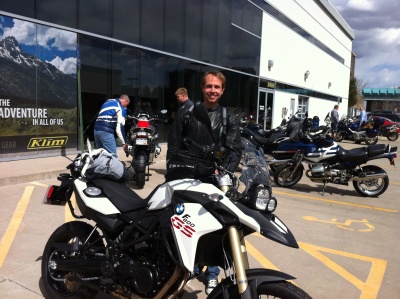 In March, I traded my Harley Nightster in for a 2013 BMW F 800 GS. Along with wrapping things up at work, I started the lengthy process of selling off everything I owned. My house, car and possessions were sold while my treasured items went into one storage unit. All that mattered anymore was my motorcycle and the few things that I could fit on the back of it.
Im März tauschte ich meine Harley Nightster gegen eine 2013er BMW F 800 GS. Während ich an meiner Arbeitsstelle mein Ausscheiden vorbereitete, startete ich auch den langwierigen Prozess der Verwertung all meiner Besitztümer. Mein Haus, mein Auto und sonstige Dinge wurden verkauft, während einige wenige persönliche Wertgegenstände ein einem Depot eingelagert wurden. Ab jetzt zählten nur noch mein Motorrad und die wenigen Dinge, die ich darauf befestigen konnte.
Exploring Close to Home
Forschungen nahe der Heimat
Fast forward to July 4, 2013 -- the first leg of my adventure took me across North America, via 6 U.S. states and part of Canada. After 41 days and just over 3,900 miles on the clock, my bike and I were on a plane from Toronto to Glasgow.
Schneller Vorlauf bis zum 04. Juli 2013 – die erste Etappe meines Abenteuers führte mich durch Nordamerika, durch 6 US-Staaten und Teile von Kanada. Nach 41 Tagen und etwas mehr als 3.900 Meilen auf der Uhr, befanden sich mein Bike und ich in einem Flugzeug auf dem Weg nach Glasgow.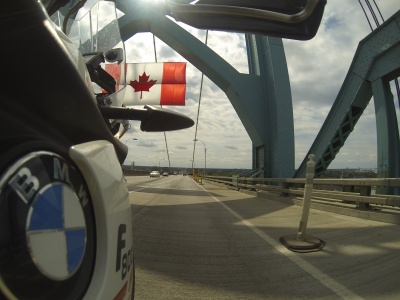 Moving on to Europe
Weiter nach Europa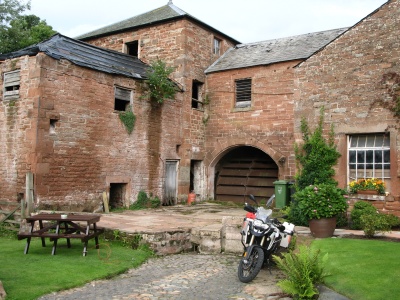 A short hop across the Atlantic and I was riding around the British Isles. I continued on through the Chunnel to mainland Europe and spent the next four months winding from France all the way to Istanbul, Turkey.
Ein kurzer Hüpfer über den Atlantik und schon fuhr ich rund um die britischen Inseln. Danach ging es weiter durch den Kanaltunnel auf das europäische Festland und ich verbrachte die nächsten vier Monate auf dem Weg von Frankreich bis nach Istanbul in der Türkei.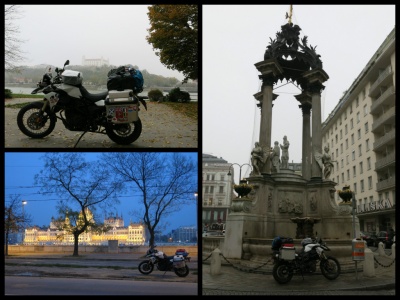 Crossing New Frontiers
Neue Grenzen überschreiten
In December 2013, I crated my bike up and shipped it from Istanbul to Mumbai. India is completely different than anywhere I've been in every way possible. I think that's pretty much what everyone says about this place after they've visited, which made me think I'd have some idea of what to expect. Turns out I didn't.
Im Dezember 2013 verpackte ich mein Bike seefest und verschiffte es von Istanbul nach Mumbai. Indien unterscheidet sich grundlegend von allen Orten, an denen ich schon gewesen bin. Ich denke, dass dies die Meinung von fast jedem ist, der dieses Land besucht hat. Eigentlich hatte ich meine Vorstellungen und Erwartungen für realistisch gehalten. Ich wurde eines Besseren belehrt.
The one thing that I'll miss the most about India is the incredible hospitality and genuine friendliness of the people I met there. On the other end of the spectrum, I won't miss the traffic (and excessive horn honking is included in this category). The traffic was entertaining at first but it didn't take long for that to wear off.
Eine Sache, die ich am meisten vermissen werde, ist die unglaubliche Gastfreundschaft und großzügige Freundlichkeit der Menschen, die ich dort getroffen habe. Andererseits werde ich sicherlich nicht den dortigen Verkehr vermissen (exzessives Hupen gehört einfach dazu). Am Anfang war der Verkehr eher unterhaltsam aber nach kurzer Zeit relativierte sich das.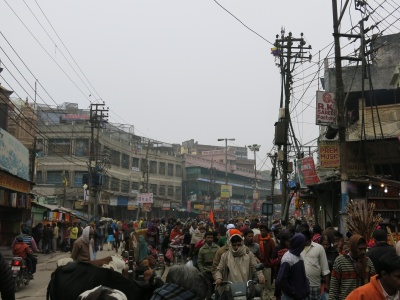 Experiencing Southeast Asia
Südostasien erfahren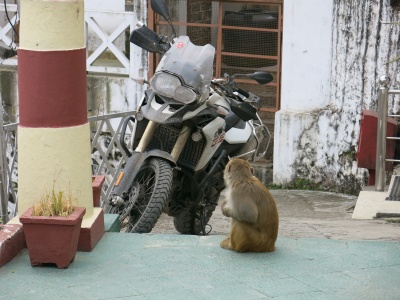 Next on the list was Nepal, followed by another plane trip to Thailand. I spent a little over 3 months and 7,800 miles exploring Thailand, Cambodia, Laos and Malaysia. I think I can say that Thailand has provided the best (and most consistently great) days of riding I've ever had. There are plenty of awesome switchbacks and curves with only a few other cars on the well surfaced road.
Auf Indien folgte Nepal, drauf wieder ein Flugtrip nach Thailand. Ich verbrachte etwas mehr als drei Monate (und 7.800 Meilen) in Thailand, Kambodscha, Laos und Malaysia. Ich kann behaupten, dass vor allem Thailand mir die besten Motorradtage geschenkt hat, die ich je hatte. Es gibt Unmengen von Serpentinen und Kurven auf hervorragenden Straßen, auf denen nur wenige Fahrzeuge unterwegs sind.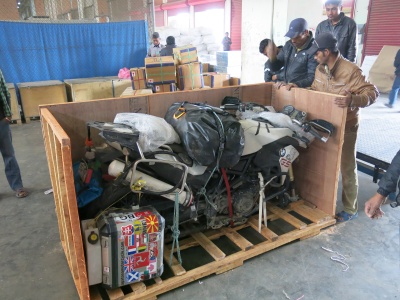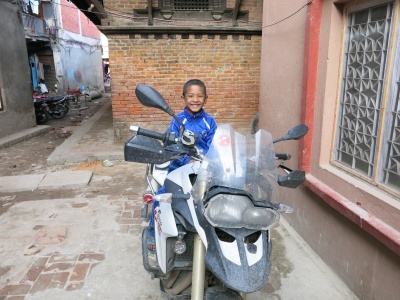 Moving Forward
Und weiter geht´s
I'm currently on a plane to Indonesia while my bike is heading the same direction by boat. I spent 4 months crossing Europe, 2 months in India and Nepal, and have been in Southeast Asia for 4 months currently. In the last year, I've been lucky enough to see more than I thought I would in my entire life.
Momentan befinde ich mich in einem Flieger nach Indonesien, während mein Bike auf dem Seeweg dorthin unterwegs ist. Ich vernrachte 4 Monate mit der Fahrt durch Europa, 2 Monate in Indien und Nepal und bisher 4 Monate in Südostasien. Im letzten Jahr habe ich mehr gesehen, als ich mir für mein ganzes Leben vorgestellt hatte.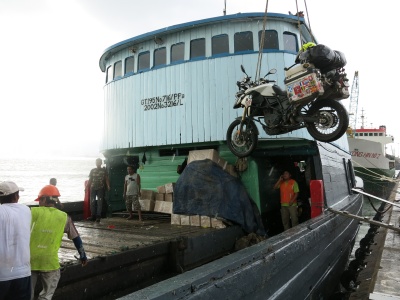 While a 10-11 month trip was originally planned, the adventure will be prolonged to around 18 months. The more time I spend traveling on my GS, the more I fall in love with traveling and motorcycles. I'm getting the feeling that this once-in-a-lifetime experience could change into a lifestyle. I strongly recommend giving into your desire to leave it all behind to hit the road. If you decide it's not your thing, you can always come back home. But I'm pretty sure that when you're in the middle of the fast and twisty roads of Northern Thailand, getting home will be the last thing on your mind.
Ursprünglich war ein 10-11 Monate langerTrip geplant gewesen, das Abenteuer wird jedoch auf ca. 18 Monate verlängert. Je mehr Zeit ich auf meiner GS verbringe, desto mehr liebe ich das Reisen und Motorräder. In mir entsteht das Gefühl, dass diese "Einmal im Leben"-Stimmung sich durchaus zu einem Lebensstil entwickeln könnte. Ich empfehle dringend, dem Wunsch nach einer solchen Reise nachzugeben sofern man bereit ist, alles zurückzulassen. Falls man merkt, dass dies doch nicht das Gelbe vom Ei ist, kann man immer noch nach Hause zurückkehren. Ich bin mir aber ziemlich sicher, dass der Gedanke an eine Heimreise so ziemlich das Letzte sein dürfte, was einem auf den schnellen verwinkelten Straßen in Nordthailand in den Sinn kommt.
Many of us dream of completing such an intrepid journey -- Pat Harris is one of the lucky few who have made it happen. The expedition has required very strategic planning and careful consideration. Part 2 of this blog post will explain the logistics of undertaking such an adventure, and a few tips he's learned along the way. www.apatonamotorcycle.com.
Viele von uns träumen von einer solchen Reise – Pat Harris ist einer der wenigen Glücklichen, die es wirklich getan haben. Die Expedition erforderte strategische Planung und vielfältige Überlegungen. Teil 2 dieses Blogs wird die logistischen Herausforderungen eines solchen Unternehmens erklären und einige während der Reise entstandene Tipps geben. www.apatonamotorcycle.com.