Cycle World magazine recently hailed the KTM 1190 Adventure as the "best all-around bike in the world". While this is certainly a bold statement, there's no doubt the new orange beast is an incredible machine on the road and off. When the AltRider design team began developing accessories for the 1190 Adventure, we knew our parts had to live up to its rugged capability. Ground clearance, cornering ability and maximum protection were the highest priorities with the newest skid plate from AltRider.
Cycle World adelte kürzlich die KTM 1190 Adventure als "das beste Allzweck-Bike der Welt". Obwohl dies ein überaus deutliches Statement ist, gibt es keine Zweifel daran, dass das neue orangene Biest off- und onroad eine unglaubliche Maschine ist. Als das AltRider-Team mit der Entwicklung der Zubehörteile für die 1190 Adventure begann, wussten wir, dass unsere Teile mit dem Bike Schritt halten mussten. Bodenfreiheit, keine Einschränkung der Beweglichkeit und maximaler Schutz waren die Prio 1-Kriterien beim neuen AltRider Motorschutz.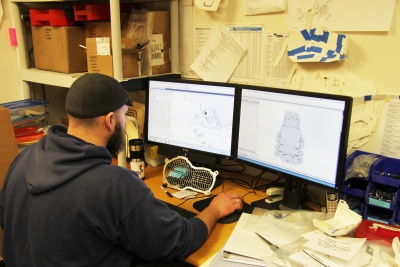 When the engineers at AltRider design a skid plate, mounting locations and brackets are always the first step. This is the foundation for a strong system that can take BIG hits. The mounts also determine how low the skid plate hangs under the bike.
Wenn die Ingenieure bei AltRider einen Motorschutz entwerfen, sind Befestigungspunkte und Halter immer der erste Schritt. Dies ist die Basis für ein System, das auch grobe Dinge wegsteckt. Außerdem bestimmt die Befestigung auch darüber, wie tief unter dem Bike der Motorschutz letztlich angebracht ist.
Most impacts occur on the front of the skid plate while the bike is travelling in a forward direction. When the front takes a hit, it creates rotational forces that actually put an incredible amount of force on the rear brackets. In order to prevent that force from being transferred to the motor, we designed the rear brackets to rely on the frame as much as possible. The bracket is bolted to the frame behind the foot peg mount. This 'sandwiched' design is incredibly strong but still susceptible to tweaking from hits from directly below (i.e. landing on the skid plate). So we also tied into the massive M10 engine mount bolts creating the only system on the market to tie into both mounts in the rear. The rear mounting brackets also feature a unique keyed design which further increases their strength and ease of installation.
Die meisten Einwirkungen erhält der Motorschutz von vorne, während das Bike vorwärts rollt. Sobald die Vorderseite einen Schlag erhält, werden Rotationskräfte erzeugt, die eine unglaublich große Menge von Energie auf die hinteren Halter transferieren. Um diese Kräfte nicht auf den Motor zu übertragen, haben wir die hinteren Halter so entworfen, dass sie sich soweit wie möglich am Rahmen abstützen. Die Halter sind hinter den Fußrasten mit dem Rahmen verschraubt. Das "Sandwich-Design" ist unglaublich stabil, jedoch trotzdem auch dazu geschaffen, Schläge direkt von unten einzustecken (z. B. bei einer Landung auf dem Motorschutz). In der massiven Motorbefestigung haben wir Schrauben (M10) angebracht, was dieses System am Markt einzigartig macht. Die hinteren Halter haben zudem eine Form, welche ihre Stabilität unterstützt und außerdem die Montage vereinfacht.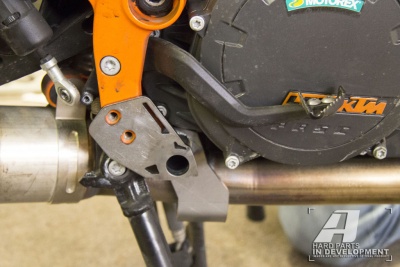 This mounting system provided a surprising challenge. Between the 2013 and 2014 model year, KTM stopped threading the rear engine mount on one side. The problem is, they neglected to tell their own dealers even though the OEM KTM skid plate required a threaded engine mount on both sides for installation. The official fix had dealers busting out a tap and threading those holes themselves.
Das Befestigungssystem hielt eine überraschende Herausforderung bereit. Ab dem Modelljahr 2014 stellt KTM an einer der hinteren Motorenbefestigungen kein Gewinde mehr zur Verfügung. Problem dabei: Man versäumte, dies den Händlern mitzuteilen, obwohl auch der original KTM Motorschutz für die Montage beidseitige Gewinde in der Motorenbefestigung benötigt. Die offizielle Lösung dieses Problems sah vor, dass die Händler das fehlende Gewinde selbst herstellen.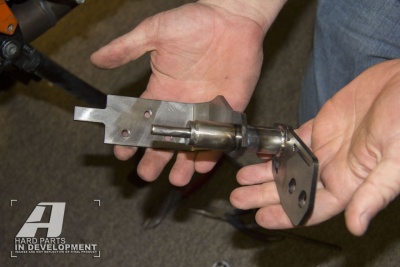 Not satisfied with this solution, the AltRider engineering team developed a separate bracket specifically for the 2014+ models. By using a non-threaded insert that's precision machined to the exact size of the hole, the design still benefits from the added strength of the mounting location without the need for a messy or dangerous drilling and taping of your expensive engine.
Nicht zufrieden mit dieser Vorgehensweise, entwickelte das AltRider-Team einen speziellen Halter für die Modelle ab 2014. Durch Nutzung eines präzisionsgefertigten Einsatzes ohne Gewinde nutzt diese Befestigung trotdem die Stärke dieser Montageposition, ganz ohne Risiko.
The design of the rear brackets also serves to reinforce the KTM's side stand. The mounting location of the side stand makes it incredibly vulnerable to snags on rocks or other trail obstacles. On 2013 models the side stand is mounted to the motor and tied in to the frame, while on 2014 models this frame mount has been removed and the side stand is affixed solely to the motor. A hit to this mount could seriously damage a motor and ruin your ride. The rear bracket of the AltRider skid plate passes through the side stand mount on both models -- greatly reinforcing the side stand strength by securing it to the frame.
Das Design der hinteren Halter dient auch dazu, den Seitenständer der KTM zu verstärken. Der Montageort des Seitenständers sorgt für eine sehr hohe Verwundbarkeit beim Überfahren von Steinen und sonstigen Trail-Hindernissen. Während bei den 2013er Modellen der Seitenständer am Motor verschraubt und mit dem Rahmen verbunden war, hat KTM bei den Modellen ab 2014 die Verbindung zum Rahmen entfernt und der Seitenständer ist nur noch am Motor montiert. Ein Schlag gegen diese Befestigung könnten den Motor ernsthaft beschädigen und damit wäre die Tour erst einmal vorbei. Der hintere Halter des AltRider Motorschutzes geht bei beiden Modellen durch die Befestigung des Seitenständers und sorgt durch die Verbindung mit dem Rahmen für erhöhte Stabilität.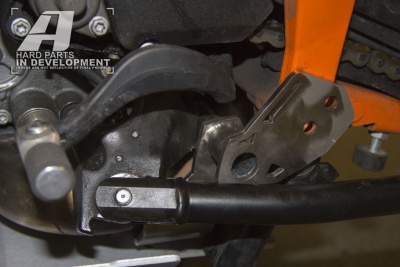 To provide maximum protection, we expanded the sides of the first prototype to fully protect the side stand mount from forward hits. The new design provides extraordinary coverage and eliminates the need for the costly and heavy parts found in aftermarket side stand relocation solutions. The skid plate protects the entire motor, including the clutch pack and stator. The AltRider plate is constructed from 3/16" anodized aluminum that can take a serious beating while still maintaining a light weight.
Um größtmöglichen Schutz zu gewährleisten, haben wir die Seitenteile des ersten Prototyps vergrößert um die Seitenständerbefestigung zu schützen. Das neue Design bietet außergewöhnlich guten Schutz und macht kostspielige und schwere Alternativlösungen zum Original überflüssig. Der AltRider Motorschutz schützt den ganzen Motor incl. Kupplung und Stator und ist aus 3/16" eloxiertem Aluminium hergestellt, das trotz seines geringen Gewichts auch heftige Schläge gut wegsteckt.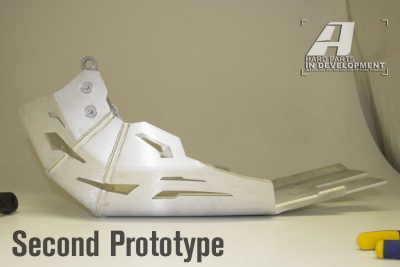 The AltRider skid plate for the KTM 1190 Adventure is available in 2 beautiful options of anodized silver or black. All surfaces are grain finished to remove any tooling marks. Click here to order yours today.
Der AltRider Motorschutz für die KTM 1190 Adventure ist in zwei schönen Varianten erhältlich, einmal in silber und einmal in schwarz. Alle Oberflächen wurden poliert um etwaige Werkzeugspuren zu entfernen. Hier klicken um zu bestellen.