DISCLAIMER:
There have been a few documented reports of cosmetic alignment issues with this bar design. As reported, the potential interference is located at the upper front sections of the crash bar, near the bike's left side headlights and right side fairings (see photographs for actual customer example). In a crash scenario, the bars may contact (and possibly damage) the fairings due to the fact that they can sit close to the front plastics. While we have invested a significant amount of time and energy to identify and solve this issue in production, the motorcycle's use of an aluminum sport bike chassis (vs a trellis frame) and a significant amount of plastic fairings that prevent access to mounting points has made it difficult to address and constrain this cosmetic alignment issue. As a result, we cannot warranty or approve return requests specific to cosmetic alignment or fairing damage caused by these bars; however we will stand by AltRider's high standards and reputation of performance and ease of installation, continuing to honor all warranties that exclude the issues stated above. Additionally, a 15% discount has been applied to these crash bars for purchases moving forward.
While this situation is uncommon, out of respect for our customers we at AltRider wish to provide full disclosure and transparency. We are taking this approach and will continue to offer our S1000XR crash bars due to customer demand and the fact that we are the only brand on the market offering a full coverage crash bar for this bike.
If you have any questions or concerns, please contact us and an AltRider representative will be happy to address your needs.
Photos provided are of an actual customer's experience with this alignment issue, consistent with other reports. Please note that only a small percentage of customers have reported this issue and is not inherent to the design.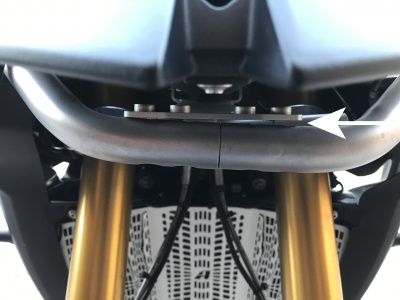 Without bolts installed in front bracket, you can see a minor deviation between the angles of the bracket and bars.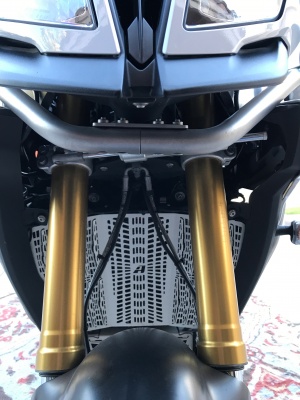 Despite the deviation, the bolts holes line up for easy installation.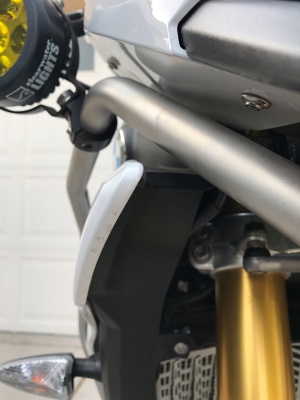 Rider's right side, bolts fully tightened.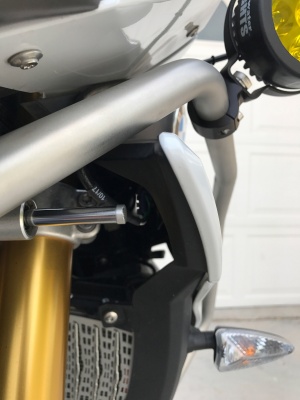 Rider's left side, bolts fully tightened.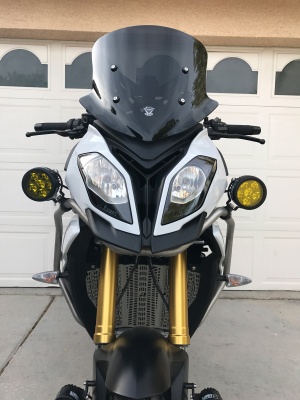 Crash bars fully installed.